Item-171, 2015
iron, brass, wire, bird mummification
27 × 14 × 8 cm
Made from a dead bird found in illegal clap net.
Item-42, 2014
iron, brass, feathers
40 × 25 × 5 cm
a complete set of feathers on a dead crow's wing
Item-39, 2014
iron, brass, quartz
10 × 8 × 6 cm
A red quartz found in mountain Emei
Item-40,41, 2014
iron, brass, bismuth
2.5 x 2 x 2 cm/ 4 × 2 × 2 cm
Crystalized from chemical experiment scrap, an experiment to test metal crystallization on natural crystal.
Item-37, 2014
iron, brass, wood
40 × 20 × 15 cm
The Item-37 is a woodcarving that I made for a nightmare, which latterly came true.
Item-148/149, 2016
iron, brass
φ25 cm/ 40 × 30 × 25 cm
The No.148: a thorn crown made of nails and wire.
The No.149: skull inside a sculpture, the studio of the artist was burnt down in a fire this year. The barbed wire is also found in the relic, I made a thorn crown for it.
Item-54, 2015
iron, brass, feathers, bones
25 × 10 × 10 cm
A kind of bird mentioned in Chinese ancient poem, found in Sichuan, road kill.
Item-245, 2016
iron chains, brass, bones, jar
38 × 18 × 20 cm
Bones found in a rusted ancient stone coffin, the spine is hiding inside the old jar, which is found in an abandoned village (the republic of China)
Item-104, 2014(accomplished in 2015)
iron, brass, bones
65 × 40 × 18 cm
Mahimahi is my favorite fish.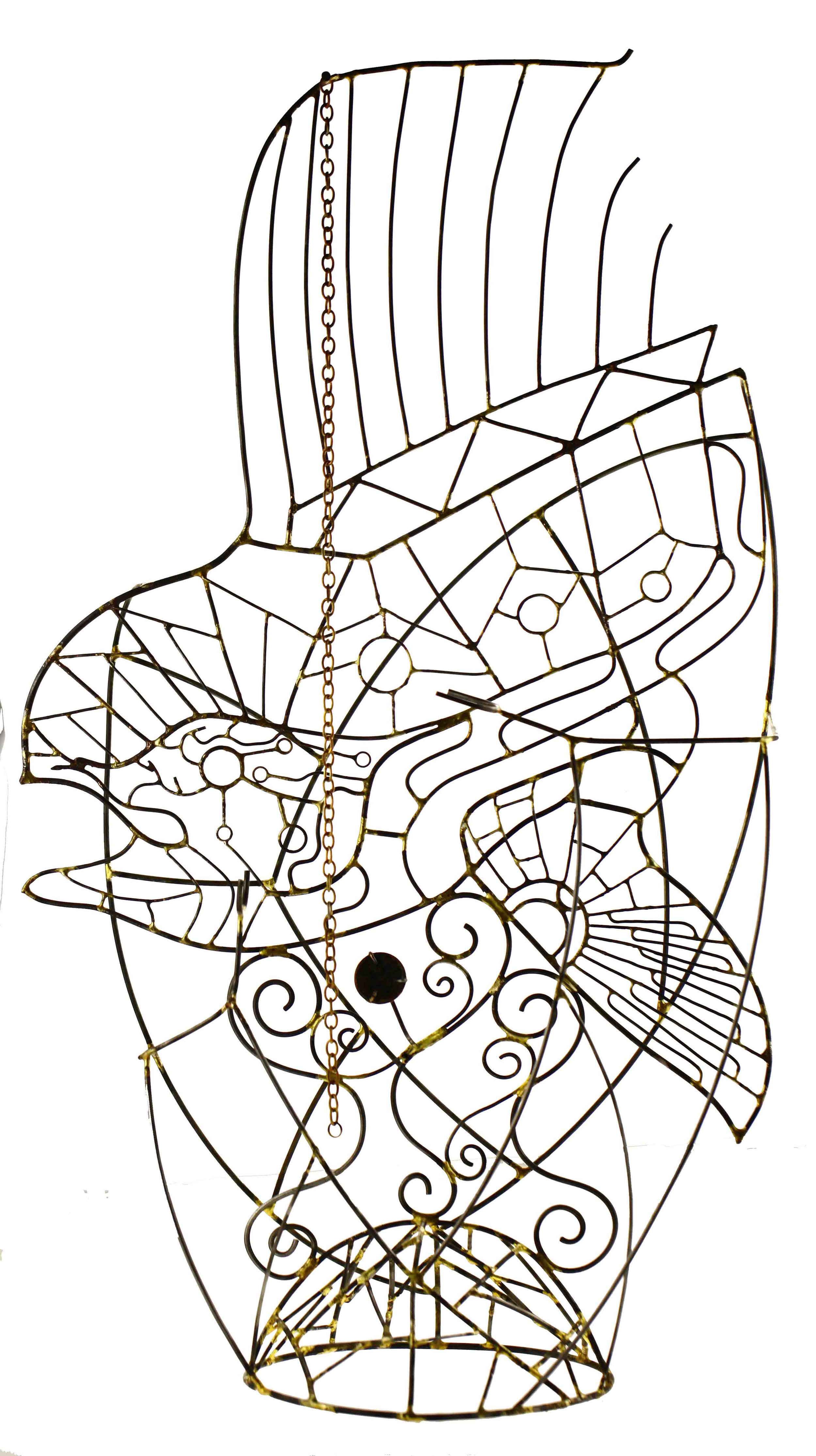 Item-201, 2016
iron, brass, golf ball
65 × 8 × 6.5 cm
In Beijing, both of rich and poor live in the outer ring of city, they share the same environment. There is a golf course beside the slum, some one used to live in this rust, they made the abandoned golf ball as a hanging object of lamb cord. It's a interesting phenomenon.